🌊 Shipwreckers, fried chicken, Jessica Simpson's memoir 📖, We Are The Champions 🏆 Josh Gwynn ⭐️
💌Podcast The Newsletter is your weekly love letter to podcasts and the people who make them.💌
Bonjour!
This week we're getting to peek into the podcast app and listening life of Jon Christensen, co-founder of Timber.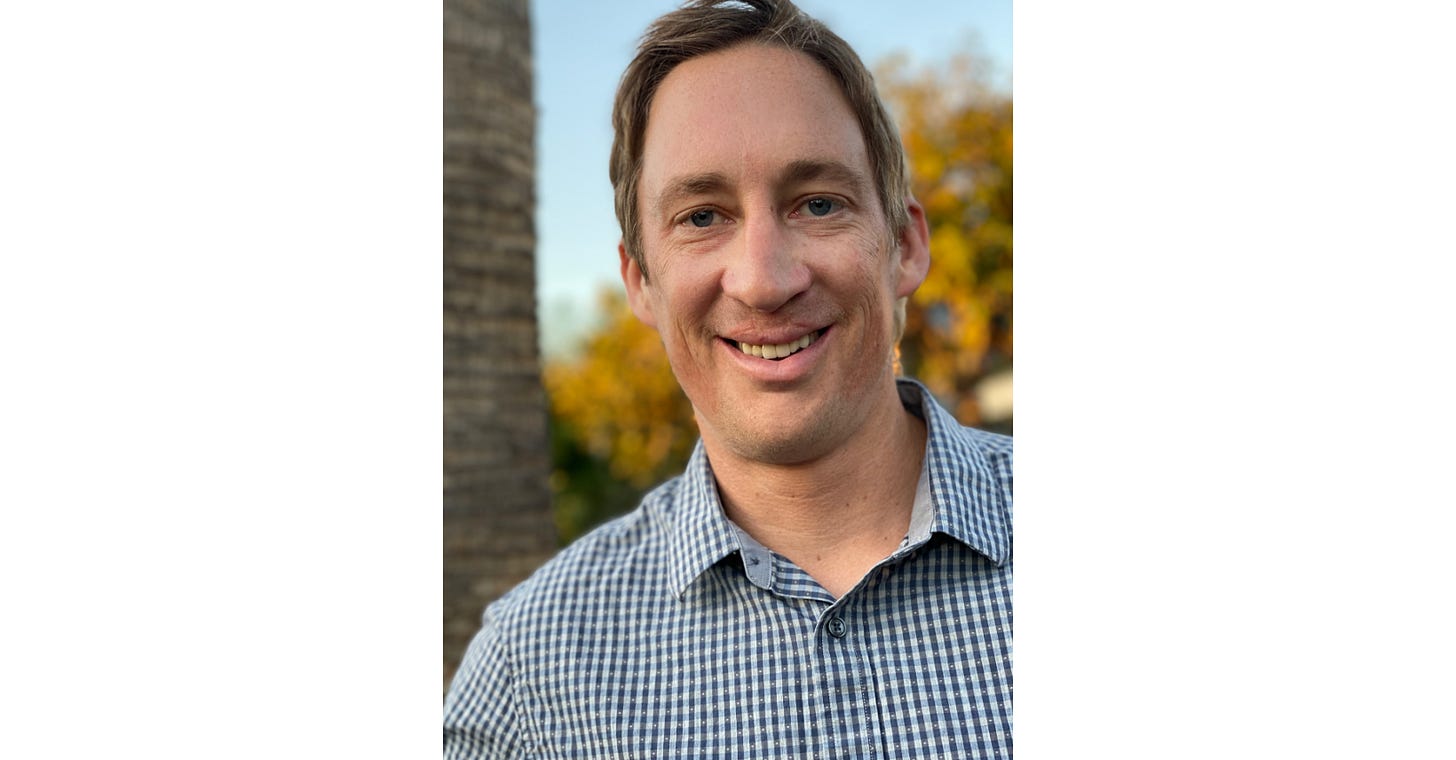 App I use: I binge listen on Spotify because for me it has done the best job of remembering where I am in a series and letting me resume without assuming I want some new episode of some other show up next. But for those shows that I do like to stay on top of as they release episodes, I use Apple Podcasts and I even let it send me notifications.
Listening time per week: A few weeks ago I went on a road trip with my family and got in 28 glorious hours! Normally I'm lucky to get more than 8. Isn't it funny, though, how when you get hooked on a really good show you can magically create extra time that you for sure definitely never have?
When I listen: I listen to and from the grocery store and the post office. Why do they have to be so close? I also listen on jogs and walks, and a little (and sometimes a lot) every night before bed. Key listening time is doing nightly dishes and making kids' lunches. I can't help it if it sometimes takes half an hour!
Discovery: I've discovered many like Bear Brook, Who the Hell is Hamish, and The Dream from the amazing podcast people at Bello Collective. I have also discovered quite a few good ones like The Adevnture Zone, The Heist, and All American: Tiger Woods by editing stories for Timber.fm. It's not the most affordable way of discovering podcasts since we pay writers well! I also gave a listen to Judge John Hodgman and a couple others (Reveal: American Rehab I think?) because of this newsletter :-)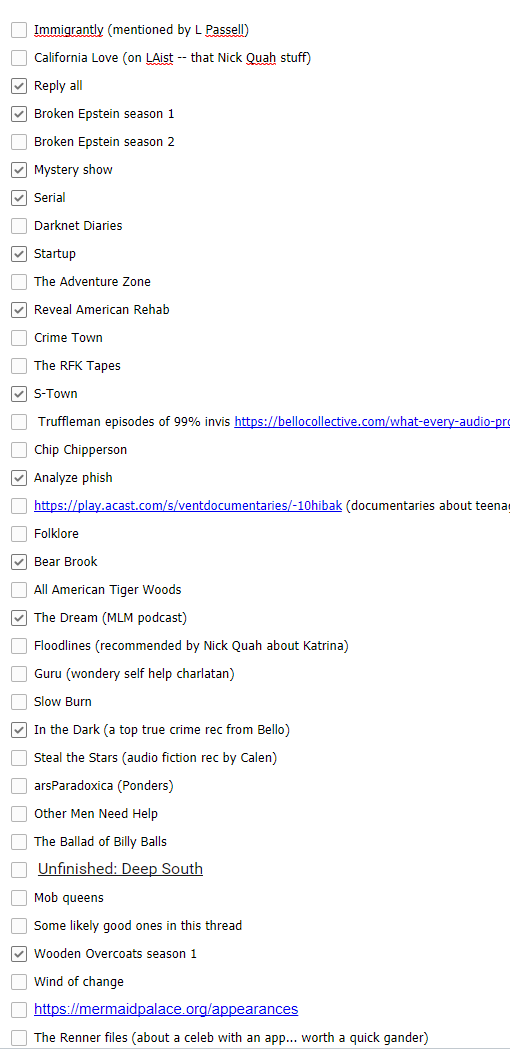 xoxo lp
ps If you are pleased with Podcast The Newsletter, please spread the word.
---
👋q & a & q & a & q & a👋
Back Issue's Josh Gwynn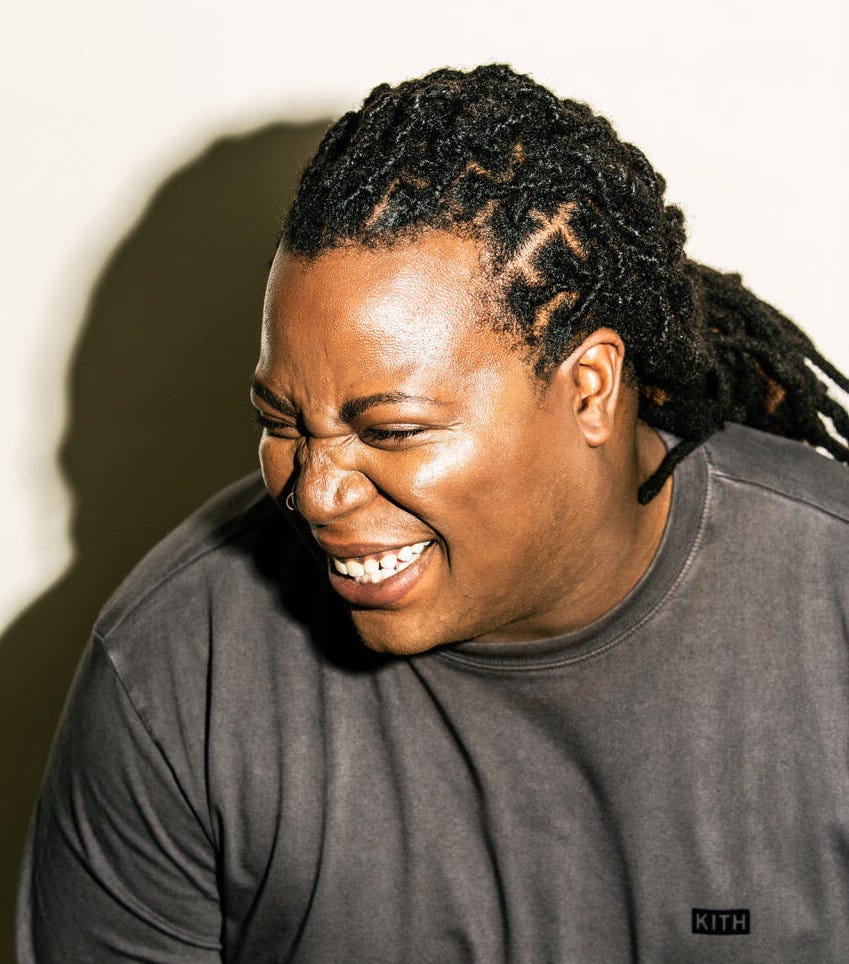 Josh Gwynn is an audio producer, pop culture critic and co-host/lead producer of Back Issue. You can follow Back Issue here. You can follow Josh on Twitter here. Or on Instagram here.
How did you get introduced to the audio space? Have you always loved it, before podcasting?
I was living in New York, working 5 million jobs and going to grad school at the New School for Media Management. I would have never thought podcasting was a space for me - not as a listener nor as a producer. I really thought that it was (only) a space full of cis white dudes talking about B2B marketing or something? I didn't know any of the content that existed in the audio space related to how I walked through the world or experienced culture. BUT! Then, all of a sudden, out of nowhere seemingly to me, shows like The Read and Code Switch and Another Round started coming out and I was like, "OH! There are people who look like me, who talk like ME and MY friends in this space." The saying that "You can't be what you can't see" was really true in my case. This is why people have spent years in this industry yelling and pushing and actively trying to open up space for voices that we don't usually center: black, indigenous, disabled, trans voices. While representation isn't the entire fight (we still have to push for representation in decision making positions within the industry and open up spaces for us to build our own tables), it's a very important part of giving folks who would have never even given themselves permission to enter the audio industry the signal old trends might begin to shift.
Back Issue is about so many things, but nostalgia is a big one. Why is that such a rich topic to dip into?
It has been said over and over again but 2020 fucking sucks. It's an awful year for so many reasons. TOO many reasons. I remember at the beginning of the pandemic in the States, a lot of folks in my social circles were beginning to binge shows like Tiger King. I wanted to watch too, so that I didn't miss out on any of the conversations happening on social media but the longer I watched, the more the emotional stakes of media I was consuming for the first time became TOO much. With the world burning outside my window, I wasn't in the mental space to be prepared for jump scares, to get acquainted with characters I'd never met before, to sit on the edge of my seat with the thrill of good writing, honestly. My first thought was, "Ok. Maybe I should try Hayao Miyazaki and Studio Ghibli films. I'd always wanted to watch them and never had time to, so maybe now is the time. Maybe animation will calm me down?" I watched Spirited Away, Howl's Moving Castle, Kiki's Delivery Service, My Neighbor, Tortoro and the rest of them. But after a while, as brilliant as I think the majority of those films are, it still was too much. I retreated into things I had watched as a child: Robin Williams and Rufio in Hook, Brandy and Countess Vaughn in Moesha, America's Next Top Model, old music videos.
I think, especially right now, there is a huge pressure on black folks in the States to have their heads on a swivel, to be constantly aware of every news item, to constantly be on the lookout. James Baldwin said, "To be a Negro in this country and to be relatively conscious is to be in a state of rage almost, almost all the time." and Solange told us that, "There's a lot to be mad about." I dare you to tell me either of them was lying.
However, to be constantly on edge isn't possible or healthy. We need rest. We need to be able to relax. We cannot be at our best without caring for ourselves and I really think of Nostalgia as a form of harm reduction, as a balm. In a world we have no control over, it is ok to go back to things and times where you felt good. Where you felt safe.
Also, pop culture is FUN. I think I remember fun but
Fun is a good within itself. Being joyous is a form of revolution, especially in a culture and country where it feels like you and your community are constantly under attack.
What do you say to people who say that Tyra Banks and #JusticeForGlitter etc are silly and frivolous and low-brow?
I think a lot of times, pop culture topics are seen as trivial or low-brow. Why? I think there are a lot of factors. I think interest in pop culture is usually gendered as femme and in our society, that isn't as authoritative. I think that Black-American culture is so heavily demonized and admired, at the same time, within American culture (and globally, honestly) that interest in it is seen as not serious.
There, though, are REASONS that this stuff sticks with us. There's a reason that meme culture exists. There's a reason that you and your friends quote certain movies back and forth. And with Back Issue, Tracy and I get the space to explore these issues with our listeners, with the care and thoroughness that these subjects deserve.
What do you hope the show does for people?
If you look outside and I'm gesturing *~generally~* outside my window, the world right now is full of chaos. It's really hard to maintain a sense of well-being in a world where you can controls so few things. Working on Back Issue, for me, has given me a balm, a salve for the new cycle, for the injustice that we witness everyday and for the general state of unrest in our culture. As I said before, I think, especially as Black Americans, there is so much pressure to be constantly tapped in to the news and into the timeline in order to feel like you're participating and showing up in a way that a politically active, aware citizen does. We HAVE to be aware of where threats are coming from in order to be prepared to fight them.
However, in order to protect yourself, in order to truly be at your best, you need breaks. You need times where you can decompress. I know, for sure, that I need that time. Working on Back Issue has given me the space to reflect back to moments in which I felt good and bask in them. It's giving me a space to take myself back to moments where I couldn't stop laughing or looking at someone or something in awe. We say on the show that nostalgia is more than just a feeling. It's an armor you can use to get through tough times. It's harm reduction. It's just FUN and I don't think fun always has to be justified! I hope that the show gives listeners the same sort of hideaway, escapist safe space that it's given me while making it.
---
🚨If u only have time for 1 thing🚨
🎙️Chelsea Devantez's Celebrity Book Club launched this week, and the first 80 minute episode was some of the most fun 80 minutes of listening I had. Chelsea and Ashley Nicole Black review Jessica Simpson's memoir Open Book, and while I assumed they'd just be ripping it to shreds, they covered it with appreciation and from a nearly scholarly angle. I think if you love You're Wrong About you'll like this episode, it gives Jessica Simpson the You're Wrong About treatment. I don't want to be too naive, I know the only source we are going from is Jessica Simpson's version of her story. But it is her story, and she owns it in this wild book. I don't think she is lying as she paints herself as a person completely exploited, undervalued, and fucked over by almost every man in her path. I'm not going to read this book, I don't think that's the point of this podcast. I think the point is to stop people from underestimating the value of these kind of trashy books and the people who write them. Oh Chelsea was on The Daily Zeitgeist last week, and yes I always recommend ALL episodes of The Daily Zeitgeist, but especially this one. You really get to know Chelsea and how funny and smart she is.
---
💎BTW💎
🎙️I love Election Profit Makers (I interviewed Starlee, David, and Jon last week) and two recent episodes were BAN episodes, which means that people call into the show and order their friends and family to be banned from listening to future EPM episodes, and the hosts read the bans on the show. Technically, if you hear your name being read, you are no longer allowed to listen to the show. So imagine my surprise when I heard a listener call in to say he was "banning his podcast-nerd wife, who got him hooked on Election Profit Makers but feeds him so many podcasts to listen to that he can't keep up." This ban was an anniversary gift. The banner was a man named Justin Chen. I hate it when people always think things are "all about them" but I feel targeted. (Thanks for the best anniversary gift ever, buttbrains!)
🎙️ICYMI: My mom and I were on an episode of Judge John Hodgman. And in the latest episode, An Ampersand-Lopez Goof Party, clearing the dockets with songwriters Kristen Anderson-Lopez and Robert Lopez, Judge John Hodgman has an update on our episode, after talking to an expert on cremated remains.
🎙️UGHHH I listened to this episode of This Is Love, He Left In a Storm, He'll Return In a Storm, multiple times, I just wanted to bask in it. I am so into the idea of shipwreckers, it's one of my storytelling fetishes. (Daphne du Maurier wrote a great novel about wreckers—Jamaica Inn.) On This Is Love, the story of Maria Hallett, "The Sea Witch of Billingsgate," takes place off the coast of Cape Cod, where wreckers would attempt to steer ships to wreck so they could loot for riches. Maria has been haunting the shore for 300 years, cursing ships that pass in the night, because of the sorrow and bitterness that came with losing her lover at sea. This episode includes bits of romance and gothic ghosts and pirates! Maria's lover was a pirate! What's not to love about this? I want a list of every single person who read this paragraph and did not immediately go listen to He Left In a Storm, He'll Return In a Storm, and ask what on earth were they thinking.
🎙️I hope you're not sick of me singing the praises of Zack to the Future yet, because I'm about to do it some more. Is everyone on board with me, that this show is great? It's not just a silly rewatching (but it has its silly moments,) it always, always adds some sort of smart commentary on the wild Saved By The Bell world. For The Election, Mark-Paul and Dashiell revisit a momentous class election at Bayside with the help of former White House Assistant Press Secretary Reed Dickens. And they make some interesting comparisons to both the 2016 and 2020 elections.
🎙️On Intersectionality Matters!'s Black Men For Trump?: The Overdue Conversation on Patriarchy & Misogynoir in Black Politics, Kimberlé Crenshaw hosts a roundtable discussion with of a panel of male activists, scholars, and writers to discuss things like self-love, racism, sexism, homophobia, transphobia, and more, in a way I've never heard men speak before. This episode felt so special I didn't even know what to do with it. The panelists shatter all stereotypes anyone has about Black men, and it's a conversation that should be heard in schools and spread worldwide! I read a lot of the Apple Podcast reviews for this show, and the most common sentiment is gratitude for it, that it is a necessary and urgent show, hosting conversations not being had in other places. I see how it could be almost life-saving.
🎙️This Switched on Pop episode on Queen's We Are The Champions was a total blast and gave me a newfound appreciation for the song. Nate and Charlie break down the song's fundamental elements, dissecting different versions of the ending, and what all that means, and the nitty gritty musical details that make We Are The Champions a masterpiece, and Freddy Mercury a genius who cared about the way his community experienced his music. (It's "we are the champions," not "I am the champion.")
🎙️I am oddly obsessed with Labyrinths, even though I initially found it puzzling. A podcast about people getting lost hosted by Amanda Knox and her partner Christopher Robinson? And the first episode is an audio diary of their cruise vacation? That one was an outlier, setting up why Amanda and Christopher are doing this. And it makes sense. Amanda and Christopher felt like they did not belong on the cruise. Years ago, Amanda found herself in a foreign land being accused of a murder she did not commit. The freakiest kind of Wonderland. And despite the fact I prickled at their teardown of cruises in general (I feel this is a lazy punch-down, very Foster Wallace fan-boy) it was fun to join them on their sea voyage, and to get to meet the interesting friends they made along the way. On episode two, they reveal they are in the Yang Gang as they interview Andrew Yang about Universal Basic Income, meritocracy, and how lost disenfranchised people can feel. There's an interesting moment in which Amanda makes a connection between her time in prison to something important to Andrew Yang—rewarding people not for their actual work but for the time they spend putting into it. This is the sort of surprising interview that makes me appreciate podcasts. Where else could we hear Amanda Knox talking to Andrew Yang about feeling lost?
🎙️Jane Fonda's Workout: Hanoi Jane's VHS Revolution is part two in Decoder Ring's Jane Fonda series, and while part one focused on Jane and Leni Cazden, the real although never really credited creator of Jane's workout, part two is all about Jane, who went from actress to despised activist to fitness hero (and then again, back to activist.) How did this happen?
🎙️On Do The Work, Brandon Kyle Goodman facilitates a conversation between two people dealing with a thorny race issue. On Meet the (White) Parents, Erik and Daniella, an interracial couple in their mid-30s, are trying to figure out how to deal with micro-aggressions coming from Daniella's mom. (Erik is half-Japanese.) At one point, Erik shares a story about an aggression toward him that feels pretty big. There's also a brief history of the use of the word "Oriental" to describe Asians, something I feel like most people know not to do, but don't understand why not to do it. "It is a slur," Goodman, says, calling it what it is.
🎙️If you're like me and you've been listening to Wild Thing, you have been convinced by host Laura Krantz that there is extraterrestrial life out there. ET Phone Home assumes they are out there and addresses how we should be communicating with them. Stephen Hawking famously said we should not (this could lead to an intergalactic war!) but the experts on this episode point out that because of our radio signals, we are technically already sending them messages. So why not be in control of those messages? It's wild to think that aliens could be studying our radio waves, and what could happen if we reached out to them. Perhaps they have been listening all along and know all about us. Perhaps they are planning a visit. Perhaps they are on their way. It's fun/scary to think about.
🎙️On its surface, Tom Brown's Body seems like a regular true-crime series, investigating who killed a Texas teenager and why. I can see why you may pass it by. (I would have, had I not heard it be reviewed on Crime Writers On…) The reporting is so well done and there are just the perfect amount of mysterious elements, so by episode four I was in. But there is a turning point in episode five, Unusual Suspects—a certain moment describing the evil aura surrounding the local sheriff in charge of the case—that made me stop and rewind a few times. And the end of episode five was a cliffhanger that made me doubt everything I had believed so far.
🎙️All of the episodes of Open World have been so, so enjoyable, but Voyager Found was a treat, a mish-mash with The Truth, one of my favorite fiction podcasts. It tells a story about discovering life from another planet, but it's not what you think. There's a huge Twilight Zone-y twist. It's a beautiful, funny story that makes you think twice (or more, actually) and the conversation following with Rose, TK, and the story's producer Jonathan Mitchell nudges the story from good to great. The unpacking drives home some optimism you may have missed listening to the original story. I'm being cryptic but I want you to enjoy this on your own. Go listen.
🎙️Black History Year's Liberation, Fried Chicken and Owning our Culture gives a pretty thorough lesson in the history of African food traditions, from the origins of soul food, what slaves ate on slave ships and the recipes they brought with them to America, how slaves were fed (and emotionally and physically manipulated by food) and how the stigma of eating fried chicken and watermelon has harmed Black culture. This episode is packed full of fascinating story and detail and it offers many "aha" moments. Moments that paint a picture of how soul food came to be what it is today, and how our shameful treatment of minorities has shaped their cultures, food and beyond.
🎙️For Sounds Like Hate, The Southern Poverty Law Center listened to 83 hours of secret audio recordings between more than one hundred white supremacists (The Base,) and asked the D-Lab at UC Berkeley to use their machine learning program to forensically analyze what they heard. The third episode in a 3-part series Baseless just dropped, and it's an intimate look into how these people vet potential members and organize. Episode three, which I just listened to, gets into why these extremists are not properly addressed by law enforcement and how close we've come to attempts at mass murder. It also addresses why The Base began to unravel, and the ways they've pivoted to stay united. Listening to these conversations is chilling.
🎙️Passport searches worldwide for interesting people and stories. It's nice-sounding and there is a closeness you feel with all of the people being interviewed and the places themselves. Oaxaca: The Day of the Dead, Santa Muerte, and The Witch was an intimate portrait of The Day of the Dead and Mexican Culture's close ties to death. Using storytelling and audio from people close to the festival, Passport is able to bring the death holiday to life. I also listened to a two-part episode that checks us in to The Stanley Hotel, where we learn how Stephen King's The Shining came to be, the very real ghosts that haunt The Stanley, and King's hatred for the Stanley Kubrick film. In everything I heard, Passport does a great job isolating a place and the stories that surround it, so you leave feeling like you have a strong sense of it's history and what it feels like (looks like! sounds like! smells like?) to be there. I love location-based shows and can't wait to go through the archive here.
🎙️On Terrible, Thanks for Asking, Nora McInerny talked to Rosie Sauvageau, who became the first Black woman to win the Miss North Dakota pageant in 2012. According to Rosie, she entered the pageant because she needed money (but aren't pageants expensive?) and because she wanted to platform against the racist shit she had experienced in her entire life leading up to being Miss North Dakota in the first place. But in becoming Miss North Dakota, Rosie was thrown to the racist wolves, and the year following her win sounds brutal. This is the story of how these pageant crowns sit differently on the heads of Black women vs. white women.
🎙️The saga happening over on Pretend keeps on getting stranger and stranger. ICYMI, modern day pirate Michael Torres claims he has discovered the crown jewels of a pre-Incan civilization, a desecrated Jewish burial site, and an entire missing colonial settlement. He is being sued by Seafarer Exploration, a 13-year-old treasure salvage company that has never salvaged a treasure. This feels to me like two distrustful parties skilled in crafting creative, intricate cons. In this portion of the series, we get to hear more of Torres' wild claims, and a look at what might be going on behind-the-scenes at Seafarer Explorer. If Javier Leiva is a storytelling pirate, he has uncovered a treasure trove in this story.
🎙️I am following Louder Than a Riot, which, I will remind you, starts out with a bizarre conspiracy theory that ties hip-hop and mass incarceration together. The Day The DJ Died is the story of DJ Drama, former king of the mixtapes who was raided by federal agents, arrested, jailed, and stripped of all of his financial gains. This put an end to mixtapes and Drama was the scapegoat. This story has always fascinated and confused me, but listening to it in the context of Louder Than a Riot caused alarm bells to ring in my ears. It all makes a little more sense, and I swear to god every episode of this show scootches me closer and closer to being a believer. This episode is also a celebration of Southern rap music. I added so many songs I had forgotten about to my Spotify playlist.
🎙️If you've been enjoying HBO's Lovecraft Country and the companion podcast Lovecraft Radio, there is likely a hole in your heart where it used to exist, now that it's over. And Femlore has an episode you'll get a kick out of—The Fox Sister, which digs into the tale of the Kumiho, the multi-tailed fox spirit that Lovecraft fans will recognize as Ji-Ah. The Fox Sister is a tight, complex story about a father who would do anything to have a daughter, and the consequences he faces once he finally gets one. Every detail of this story deserves its own unpacking, from the fact that it is a girl who has power but is also the villain, to the fact that she tricks her family into cannibalism. (I LOVE the conversation they have about cannibalism.)
🎙️On Last Day, Stephanie Wittels Wachs is exploring suicide with a thoroughness and sensitivity that is unique and fearless. On Is Suicide Contagious?, she talks about why suicide are often found in clusters and what we can do to stop contagion—something that's really hard to do. She also investigates the famous string of teen suicides in Silicon Valley, where a group of bright, privileged kids didn't want to keep living.
🎙️I love you!